We are one of the only kitchen companies on island to own and use a laser templator. This templating machine significantly increases the efficiency, accuracy and speed with which our clients templating can be undertaken.
At The Laxey Kitchen Co we specialise in bespoke granite, quartz, slate, limestone and other semi-precious stone work surfaces as well as composites and hardwoods. These natural surfaces are guaranteed to bring an air of elegance to any kitchen or bathroom. We can also transform your fireplace with a stunning granite hearth.
Granite is a natural rock that is cut in its natural state. It is then polished for use as Kitchen worktops and hearths. This completely natural product is made by slow crystallization of magma below the Earth's surface. This means that your granite is unique to you.
Granite is a very strong type of rock which is difficult to scratch and can resist temperature changes. Because it is natural stone, no two pieces are the same.
Granite will require care to maintain a flawless finish. Simple warm water is effective enough for cleaning. Your worktop or hearth will be sealed before arriving with you and we will happily give you guidance on the care of your worktop so you can maintain the look.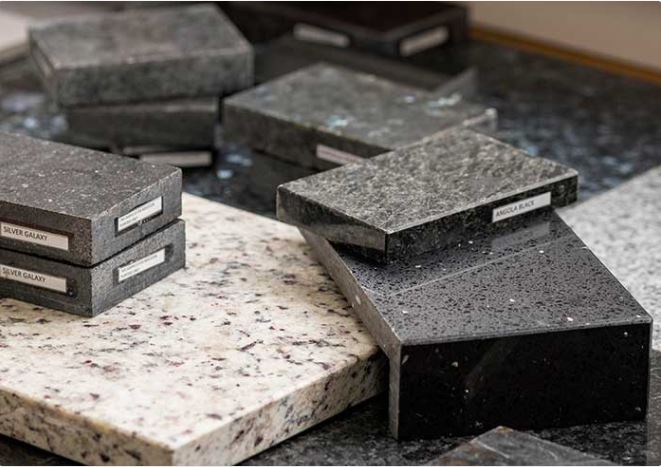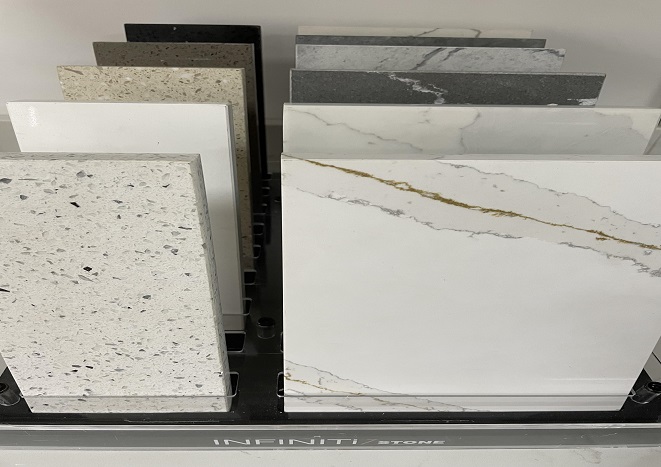 Quartz worktops are made from natural quartz, one of the hardest minerals found on Earth. Quartz can have small amounts of glass or metallic flecks added to create variety. This results in beautiful hard-wearing surfaces. Another advantage is that being a non-porous material, its texture does not allow bacteria to grow and resists against stains, protecting your family and making kitchen clean-up easy. For this reason, quartz worktops never need to be sealed.
Aside from the durability that quartz provides, this material is beautiful and its wide variety of colour options are sure to catch your eye. Your options are nearly endless as quartz ranges from natural whites, blacks and browns to other colours such as golds and blues. The design of a quartz worktop not only brings character to your kitchen but offers performance advantages that exceed other traditional materials.
The 1810 Company supply an evergrowing range of sinks and taps. It supplies innovative and contemporary European design in a wide range of standard and more unique size combinations, appealing to those who appreciate superior quality and style. For more information click the button below.